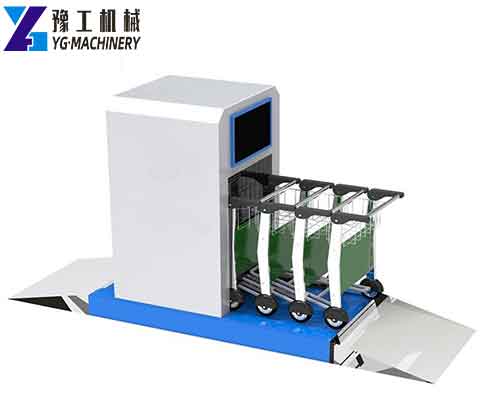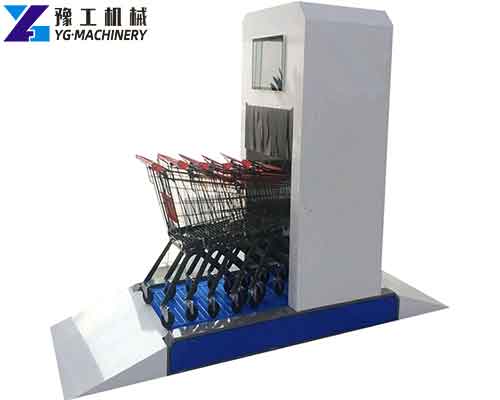 The automatic trolley sterilization machine and disinfection machine are used by passengers in airports with high frequency and high mobility. To prevent the import of epidemic from abroad, YG developed the domestic intelligent airport luggage trolley sterilizer, and YG intelligent trolley sterilizer has become the "anti-epidemic guard" in domestic and international airports, disinfecting trolleys centrally and providing protection for passengers' life safety. To ensure that the trolleys are thoroughly disinfected, they can be set in the baggage claim hall, can work 24 hours uninterruptedly, and the rate of sterilization is as high as 99.99% in 30 seconds.
After starting, the disinfector will automatically move back and forth on the track on the ground, and project ultraviolet rays onto the trolleys through its own ultraviolet emitting device to achieve a 360-degree all-round disinfection effect, and can simultaneously disinfect hundreds of trolleys centrally in batches, with a disinfection time of about 30 seconds for each batch.  Of course, we have other products that can be recommended to you. Smart disinfection robots, disinfection channels, hand-held spray guns, oxygen generator machines, etc. can all be used to disinfect large areas. Please contact us for more information.【WhatsApp/WeChat/Phone/Skype】+86 136 1385 6800
Parameter of Automatic Disinfection Machine for Luggage:
Total weight
<300kg
Power
1500W
Starting method
Induction start
Cooling method
Air cooling
Sterilization
99.99%
Working time
Continuous work
Disinfection technology
Ultraviolet radiation disinfection,

Ozone disinfection

Disinfection time
15 -30 S
Transmission speed
Adjustable
Dimensions
2000mm*1000mm*1900mm
Maximum load
260kg
Power supply
AC230V/60HZ
Application
Airports, stations, ports, shopping malls, etc.
Luggage /shopping cart sterilization in crowded public places.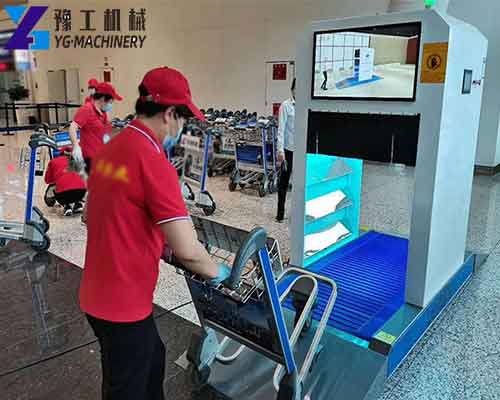 Scope of Application:
Airports, stations, high-speed rail. Sterilization of luggage carts in ports and shopping malls.
7 Characteristics of the YG Smart Trolley Sterilizer Machine:
Can quickly and effectively kill various bacteria, viruses, and other microorganisms.
Automatic induction transmission, Internet of Things technology.
Simple operation and convenient maintenance.
Small footprint and large processing capacity.
No pollution, strong environmental protection, and no toxic side effects.
Low investment cost, low operating cost, and convenient equipment installation.
Using the principle of ultraviolet rays and ozone, a unique inner wall treatment process is designed to maximize the sterilization of the cavity and the effect is doubled.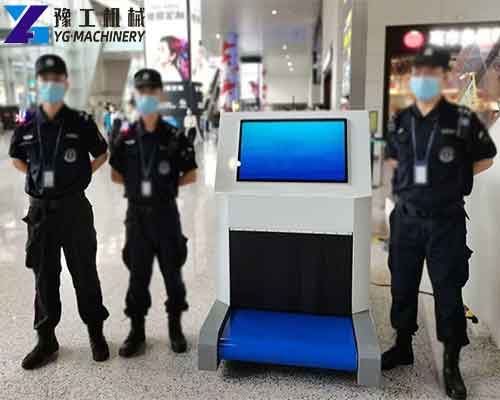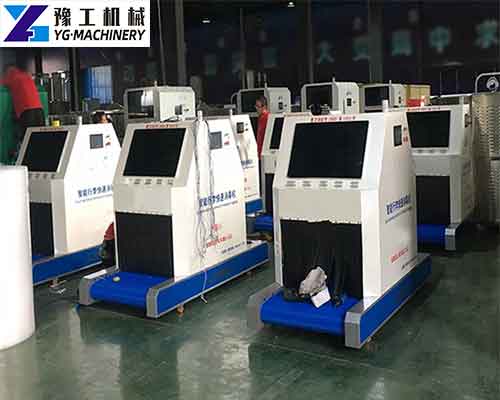 Working Principle and Advantages of Luggage UV Disinfection Machine:
The diameter of the virus is generally within 17M— 100NM. The lightwave sterilization equipment can eliminate germs, spores, branched streptococci, coronaviruses, bacteria, rickettsiae, mycoplasma, etc., which are polluted by the virus. The surface of the block, water, and gas can all be sterilized by light waves. It can kill viruses and bacteria and has a very good sterilization and disinfection effect on mites and many pathogens. The intelligent light wave luggage trolley sterilization and disinfection machine can work 24 hours a day. The lightwave technology itself has a sterilization and disinfection function, with short wave amplitude, high energy, and high sterilization function. It is often used in disinfection equipment. After the disinfection machine is started, it will automatically sense and transmit in situ. Through the automatic transmission function, the trolley will be disinfected smoothly, achieving a 360-degree sterilization and disinfection effect. Each time is about 30 seconds, and hundreds of trolleys can be disinfected at the same time. The assembly line operation, that is, sterilization and disinfection go immediately, the sterilization effect is good, and it is safe and fast.
Automatic Trolley Sterilization Machine Price – YG Machinery Manufacturer
The automatic trolley sterilization machine not only greatly improves the efficiency of disinfection but also avoids the corrosion of the trolley that may be caused by the use of disinfectant and the baskets and wheels of the trolley that cannot be wiped by the daily disinfection mode. This realizes the disinfection of the trolley and avoids the secondary effects caused by excessive use of the disinfectant. Sub-human pollution has created a safe and clean environment for public spaces. Contributed Chinese wisdom to human public security and Chinese smart manufacturing goes global. As a professional machine manufacturer, we also have other disinfection equipment, UV disinfection robots, disinfection channels, disinfection doors, car fog smoke machines, electrostatic sprayers, hand-held spray guns, oxygen generator machines, etc., which can meet the needs of various customers. If you are looking for a new supplier for cooperation, please contact us as soon as possible, and we will prepare the goods for you as soon as possible.【WhatsApp/WeChat/Phone/Skype】+86 136 1385 6800