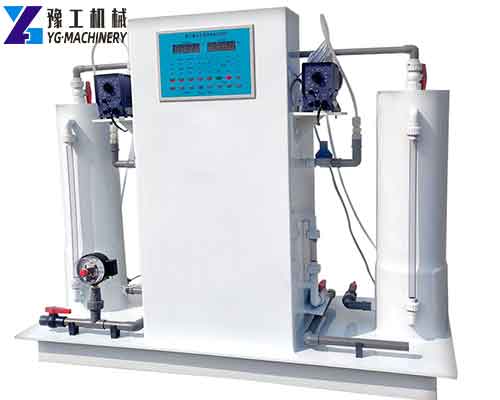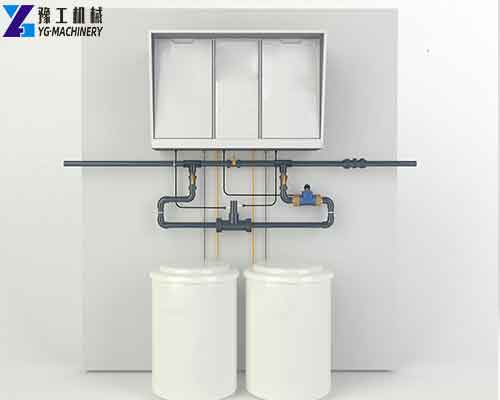 A small and medium-sized multi-stage chlorine dioxide generator with simple operation, high conversion rate, high purity, multi-purpose, environmentally friendly chemical method. This kind of chlorine dioxide generator is composed of a kettle-type reactor through an acid-resistant conduit and a water jet vacuum unit. The tank reactor adopts a two-stage or multi-stage reactor. The main reactor is equipped with an air distributor, and the auxiliary reactor is equipped with a balance pipe to make the reaction more thorough, and the residual liquid after the reaction can reach the standard discharge. The generated chlorine dioxide can be prepared into an aqueous solution, and a stable chlorine dioxide solution can also be prepared. In addition, we also have chlorine dioxide disinfection tablets, industrial oxygen generators, portable nitrogen generators, cryogenic air separation plants, household oxygen generators, glove making machines, meltblown production lines, etc. 【WhatsApp/WeChat/Phone/Skype】+86 136 1385 6800
Portable Chlorine Dioxide Generator Specification:
Model
Effective chlorine production (g/h)
Heating tube power (kW)
Power water
Disinfectant dosing pipe diameter (¢)
Equipment dimensions(L×B×H)mm
Pipe diameter (¢)
Pressure (MPa)
YJFB-50
50
1
25
≥0.3
25
540×460×1100
YJFB-100
100
1
25
≥0.3
25
540×460×1100
YJFB-200
200
1
25
≥0.3
25
550×470×1100
YJFB-300
300
1
25
≥0.3
25
550×470×1100
YJFB-500
500
1
25
≥0.3
32
550×470×1100
YJFB-800
800
1.5
25
≥0.3
32
550×470×1200
YJFB-1000
1000
1.5
32
≥0.3
50
600×500×1200
YJFB-2000
2000
2
32
≥0.3
50
650×500×1300
YJFB-3000
3000
2
32
≥0.3
63
650×500×1300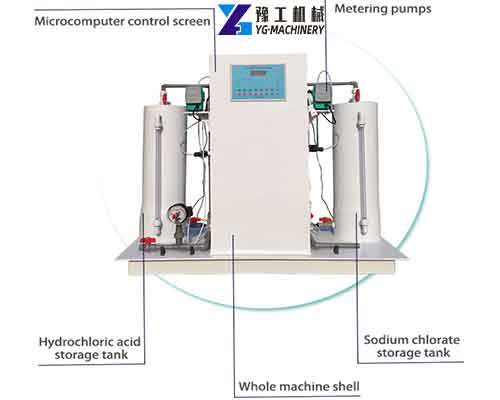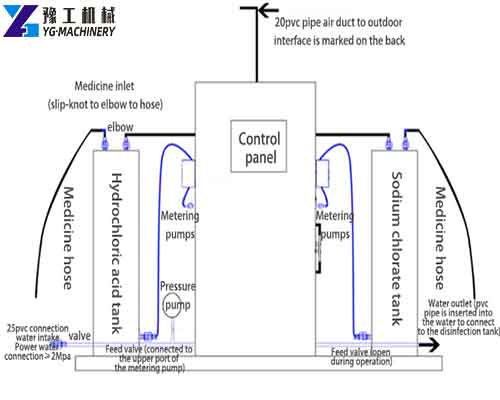 Working Principle of Chlorine Dioxide Generator:
The sodium chlorate aqueous solution and the hydrochloric acid solution are fed into the reactor by the metering pump, and the reaction is fully carried out under a certain temperature and negative pressure, and the output is mainly chlorine dioxide, which is absorbed by the water ejector and mixed with water to form a disinfectant. After that, pass it into the disinfected water.
Features of YG Small ClO2 Generator:
As a new type of oxidant and disinfectant, chlorine dioxide has become a leader in the field of water treatment with its high efficiency, broad-spectrum, no residue, no by-product disinfection ability, and strong oxidizing ability such as decolorization, deodorization, and odor removal. Compared with traditional disinfectants such as ultraviolet rays, ozone, sodium hypochlorite, and liquid chlorine, chlorine dioxide has unique advantages, and it has increasingly become the first choice of the industry.
The reaction system adopts a temperature-characteristic reactor with corrosion resistance and long life.
Imported brand pumps, reducing negative pressure devices, and system metering.
The control system is an intelligent controller with light-installed camera technology, an LED digital display, and an operation panel.
The heating unit of the control system is controlled by an automatic control loop, which has the protection functions of heating water shortage, sensor open circuit, short circuit protection, over-temperature alarm, and automatic heating stop.
The operation protection unit has the automatic shutdown protection function of power water under pressure/underflow, and lack of material (optional).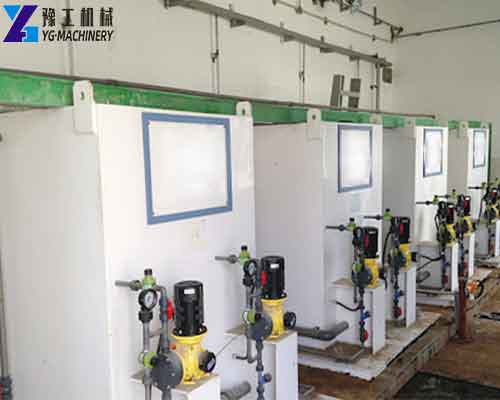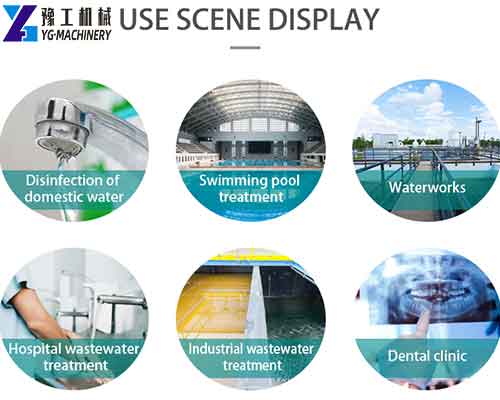 Chlorine Dioxide Generator Tap Water Disinfection Equipment:
Product attributes: Chemical method, negative pressure type, compound type
Reaction principle: NaCLO3+2HCL→CLO2+1/2CL2+NaCL+H2O
Raw materials used: Chloric acid, sodium hydrochloric acid
Scope of Application:
Disinfection of life, drinking and tap water on various occasions;
Sterilization of restaurants, hotels, homes, tableware sanitary facilities, air environment disinfection, etc.
Final sterilization and disinfection of equipment, pipes, and containers in food and beverage factories and fermentation industries.
Sterilization of pipelines, facilities, and environment in dairy factories and slaughterhouses;
Sterilization and disinfection of hospital sewage;
Sterilization of swimming pool, industrial circulating water, and bathwater;
Anti-mold treatment for disinfection, sterilization, and deodorization of the hospital, sanitation, and clinical equipment;
Preservation and final washing and disinfection of foods such as homes, hotels, restaurants, fruits, vegetables, fish, and meat;
Equipped with various oral disinfectants, deodorants, and wound cleaning solutions.
Sterilization and deodorization in wastewater reuse;
Bleaching agent for flour and various foods;
Bleaching agents for papermaking, printing, and dyeing industries;
Cyanide breaking treatment of electroplating wastewater containing cyanide, decolorization treatment of printing and dyeing wastewater, and algae removal and sterilization treatment of industrial cooling water.
Chlorine Dioxide Generator Manufacturer – YG Machinery
Chlorine dioxide (ClO2) is a new generation of spectrally powerful bactericide, high-efficiency oxidant, and excellent bleaching agent recognized internationally and is widely used by countries all over the world. The World Health Organization (WHO) listed it as an AI-level safe disinfectant. At present, our customers in Thailand, Vietnam, Myanmar, and other countries have purchased multiple chlorine dioxide generators. Our equipment is simple to operate and highly efficient. If you need it, please feel free to contact us!【WhatsApp/WeChat/Phone/Skype】+86 136 1385 6800