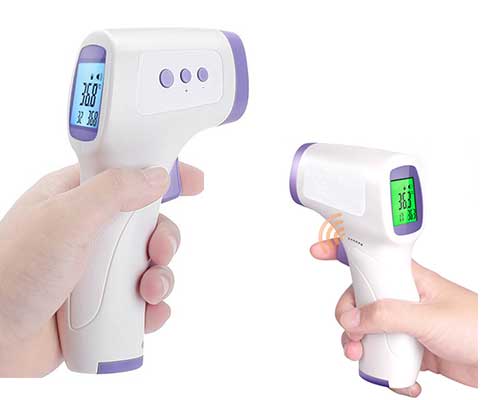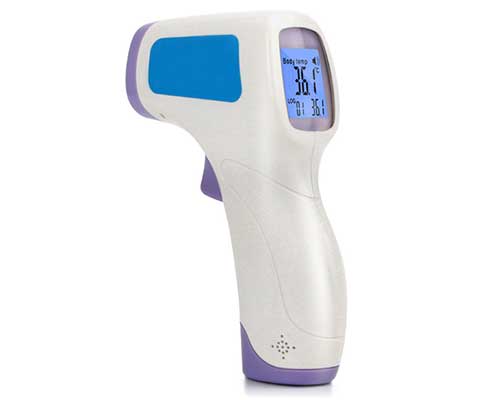 The forehead temperature gun (infrared thermometer for sale in YG) is designed for measuring the human body's forehead temperature reference. It is very simple and convenient to use. Accurate temperature measurement in 1 second, no laser spot, avoid potential damage to eyes, no need to touch human skin, avoid cross-infection, one-click temperature measurement, and check for flu. It is suitable for home users, hotels, libraries, large enterprises, and institutions, and can also be used in hospitals, schools, customs, airports, and other comprehensive places, and can also be provided to medical personnel for use in clinics.
Of course, since the epidemic situation is still serious in many countries, we also have other protective equipment, such as protective clothing, protective gloves, indoor atomizers, and air disinfection machines. It can be used for personal protection. There are also some disinfection machines that can be used after re-work, for example, disinfection tunnels, fog cannons, etc. There are also mask machines and melt-blown cloth machines, etc., which can be used for production. If you need it, please contact us.【WhatsApp/WeChat/Phone/Skype】+86 136 1385 6800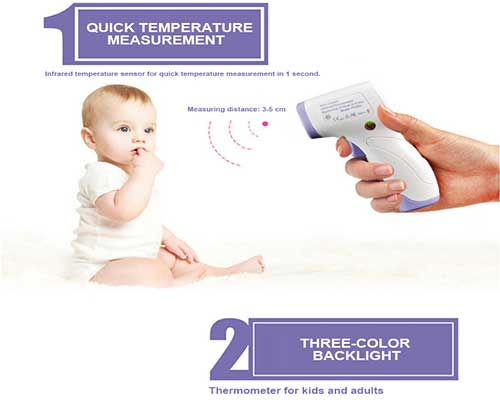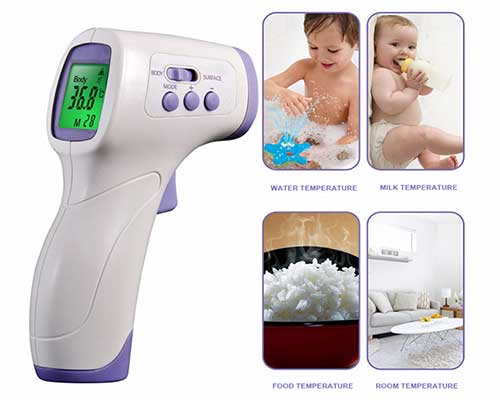 Non-contact Infrared Thermometer Parameter:
| | |
| --- | --- |
| Temperature Range | -32~ 43°C (90~109°F) |
| Accuracy | ±0.3°C/0.5°F |
| Measuring length | 50-150mm |
| Humidity rate | ≤85% |
| Response Time & Wavelength | 500ms & (8-14) um |
| Repeatability | ±1% or ±1°C |
| Storage Tem | -10°C–40°C |
| Weight | 122G ( without battery) |
| Size | 88*42*175 mm(L*W*H) |
Application and Advantage of  Infrared Thermometer:
It can be widely used in medical measurements, body temperature measurements, etc. Take your temperature accurately and hassle-free. This Infrared Forehead Thermometer is a safe, sanitary, and non-invasive way to take clinically accurate readings in just 1 second.
Touch-Free Infrared Forehead Thermometer measures body and object and liquid temperatures. Safe, sanitary, and noninvasive temperature readings – body temperature measurements taken at the forehead. The fever icon indicator can quickly determine normal or high measurements. Illuminated, backlit display for low-light use.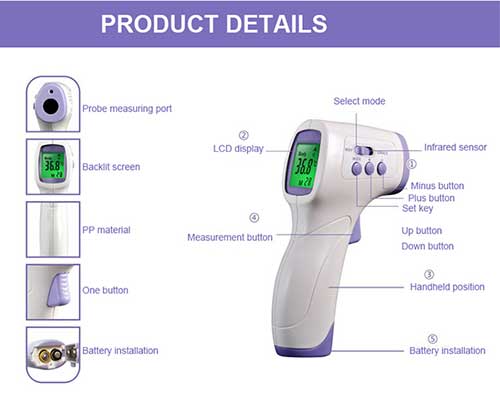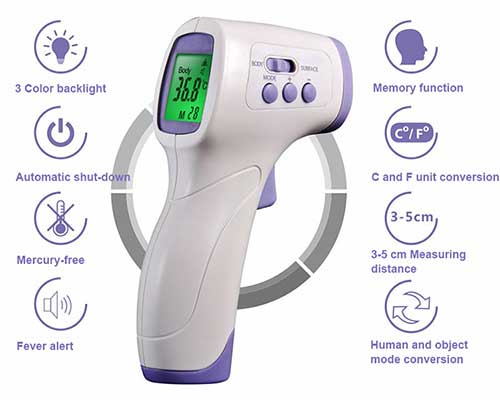 Infrared Thermometer for Sale in YG Feature:
Rugged design: This forehead thermometer has a rugged design that delivers reliable results. An infrared thermometer you can trust! Simply press the button to get the temperature and you will read the temperature in 1 second.
Reliable and accurate: Point to the forehead from a distance of 2-6 inches and know your body temperature in two seconds. After testing, it proved to be reliable and accurate when used according to the instructions.
Multi-scenario use: This infrared thermometer not only measures your body temperature. It is also calibrated to measure the temperature of an object or room.
Display and prompt: When your body temperature rises (yellow) and fever (red), the fever red backlit display and 10 short beeps may have a fever.
20 readings: Store and recall up to 20 readings. You can read it anytime. It is easier to read the temperature in the dark.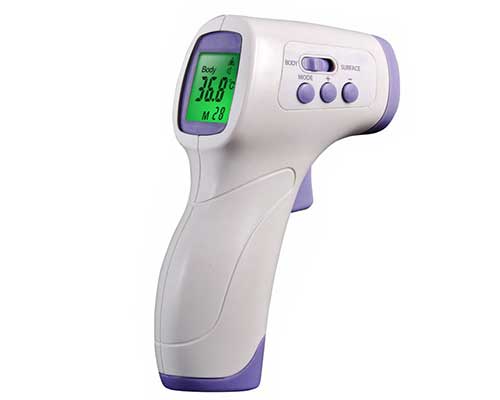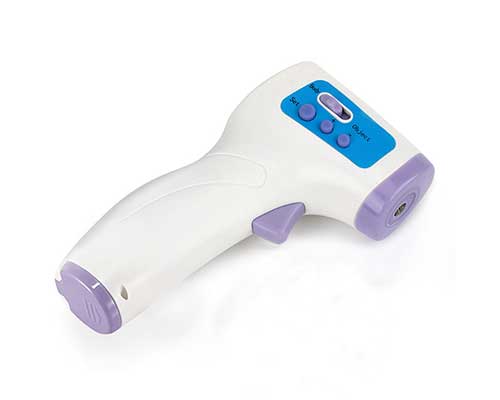 Precautions for Use:
The distance between the forehead gun head and the forehead is generally 5~10cm.
In order to measure the more accurate human body temperature value, after installing the battery, it should be placed for 5-10 minutes for measurement.
After relocating to a new environment, it should be placed for 5-10 minutes for measurement.
It should be measured within the scope of the catalog and in an environment with low wind speed (do not measure at the location of the air vent, such as facing the door or facing the fan).
The frontal temperature gun is susceptible to radiation interference, so radiation should be avoided.
Cosmetics and skin color, due to different infrared radiation rates, will affect the display temperature accuracy.
7. Steam, dust, smoke, etc. will affect the accuracy of the measurement.
The probe protective lens is the most vulnerable part of the infrared thermometer, so care must be taken to protect the probe lens.
Do not immerse in water or direct sunlight.
Do not drop or collide, otherwise, it will cause damage.
Maintenance:
Always keep the infrared thermometer clean.
Working environment: working temperature 0℃~50℃, relative humidity 10~95%RH (no condensation)
Storage environment temperature: -20~50℃.
When the battery icon appears on the display, please replace the battery as soon as possible.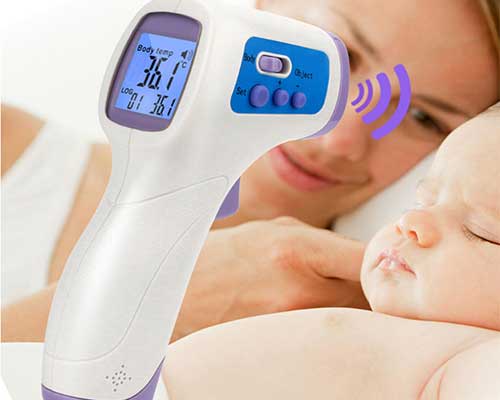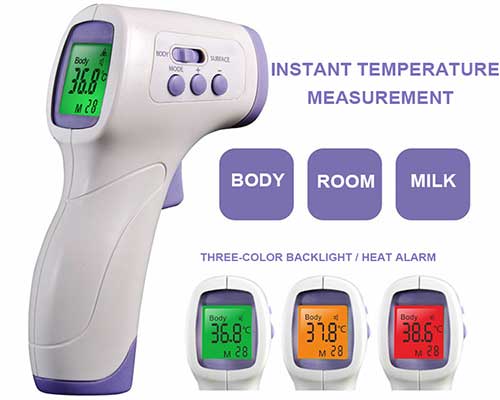 Can I Use My Forehead Gun to Measure My Wrist?
At the press conference of the joint prevention and control mechanism of the State Council held on February 16, Feng Luzhao, a researcher at the Chinese Center for Disease Control and Prevention, said that if you want to use a front thermometer to measure the body temperature of people entering the room from outside, or when taking temperature measurements outdoors It is best to measure the part covered by the clothes, such as the wrist or neck, the reading will be more accurate.
In addition to keeping clothes warm, the temperature of the wrist itself is relatively stable. During the sober time, the temperature of the wrist changes by about 1°C, which is not too much compared to the forehead exposed to sunlight and wind.
Therefore, if you want to pass the test at normal body temperature, and do not want to delay the time and undress, then trouble you to roll up your sleeves for the test.