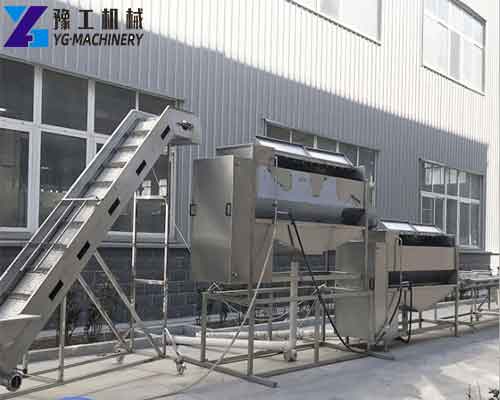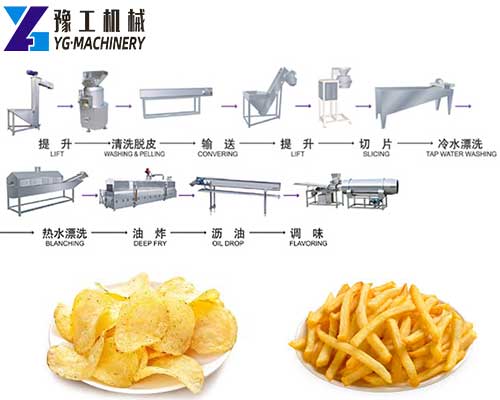 YG's french fries making machine provides sorting, peeling, and process analysis equipment to enhance performance, increase output and increase productivity and competitiveness. YG Machinery is one of the largest producers of sorting and peeling equipment in the French fries industry. The complete set of equipment consists of washing and peeling, slicing (stripes), blanching, dehydration, frying with water and oil, deoiling, seasoning, packaging, and auxiliary equipment. At the same time, we also sell glove making machines, wet wipe production lines, mask making machines, disposable cup making machines, balloon making machines, shoe cover making machines, paper bag making machines, disposable slipper machines, and other health-protection equipment. Please contact us for a free quote.【WhatsApp/WeChat/Phone/Skype】+86 136 1385 6800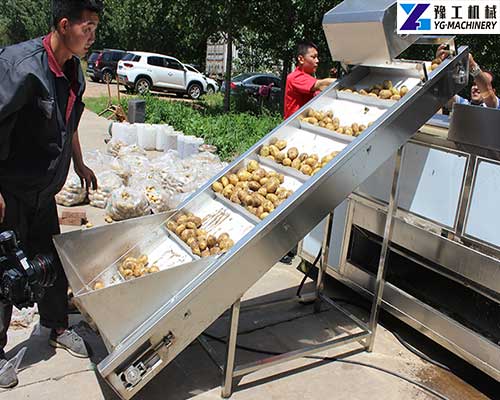 YG Lift Feeding Machine
(1) Purpose: Lift the potato raw materials into the peeling machine for peeling treatment.
(2) Features: stainless steel frame structure, easy to maintain, easy to clean, no rust.
(3)Dimensions: 2500*630*1650mm
Power: 0.55kw /380v/ 50Hz
The effective width of the conveyor belt: 500 mm
YG Brush Cleaning Peeling Machine
(1) Purpose: Wash and peel potatoes.
(2) Features: Spiral discharge realizes continuous production, imported nylon silk wool roller, durable, stainless steel frame structure.
(3)Dimensions: 2600*850*1650mm
Hair roller length: 1.8 meters
Power: 4.55kw /380v/ 50Hz
Number of hair rollers: 9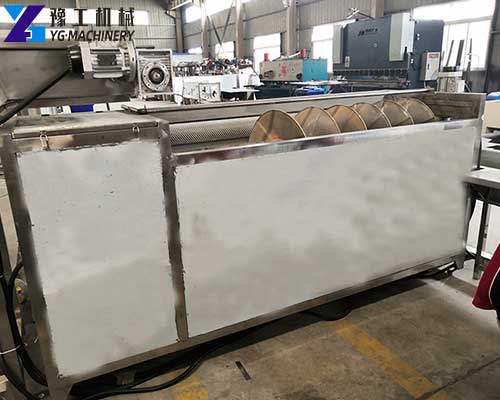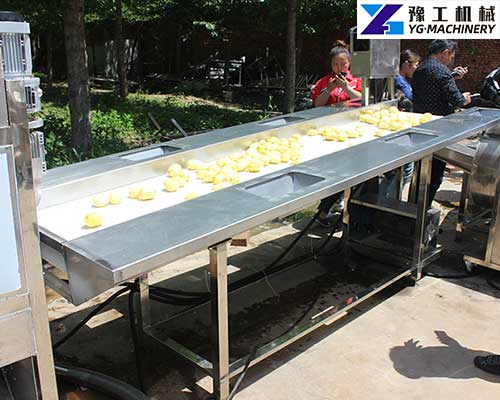 YG Picking Line
(1) Purpose: Manually select potatoes that have been cleaned and peeled to remove unclean areas and unqualified materials.
(2) Features: Stable operation, stainless steel frame structure, easy maintenance, and easy cleaning.
(3)Dimensions: 4000*730*780mm
Power: 1.5kw /380v/ 50Hz
The effective width of the conveyor belt: is 500 mm
YG Imported Cutting Machine
(1) Purpose: Cut potatoes after washing and peeling.
(2) Features: Originally imported from Taiwan, the blade is durable and runs smoothly. After cutting the strips, it directly enters the rinsing machine for rinsing treatment.
(3)Dimensions: 1070*560*900mm
Power: 1.5kw /380v/ 50Hz
Cutting size: 7-10mm
Output: 200-300kg/h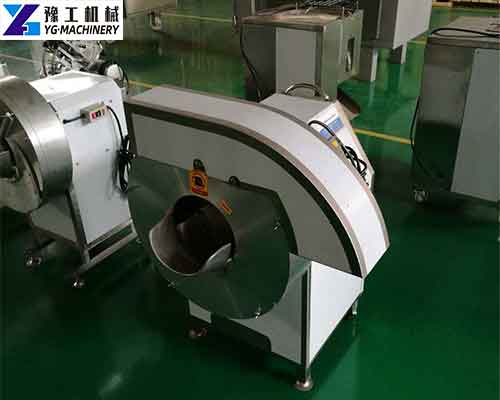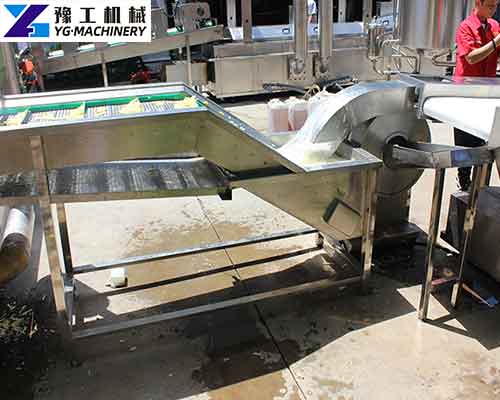 YG Immersion Lifting Machine
(1) Purpose: Rinse the cut potatoes to remove the starch on the surface.
(2) Features: After cutting the strips into the water to prevent the adhesion of the French fries, the stainless steel chain mesh belt conveys.
(3)Dimensions: 2500*1000*950mm
Total power: 0.55kw /380v/ 50Hz
The effective width of the conveyor belt: 800 mm
YG Hair Roller Cleaning Machine
(1) Purpose: To remove impurities from the cleaned French fries, remove broken pieces and leftovers, etc.
(2) Features: It has a conveying function and uses a wool roller to remove impurities.
(3) Technical parameters: 2500*1000*1350mm
(4) Total power: 1.5kw/380v/50hz
(5) Width of wool roller: 800mm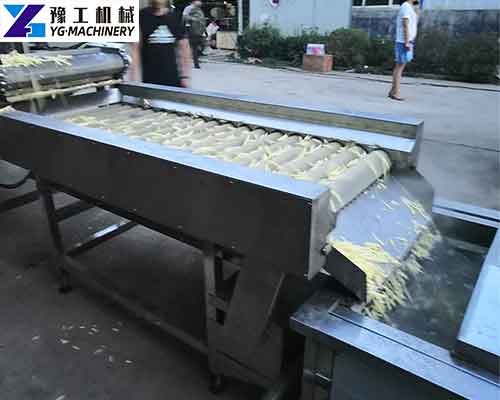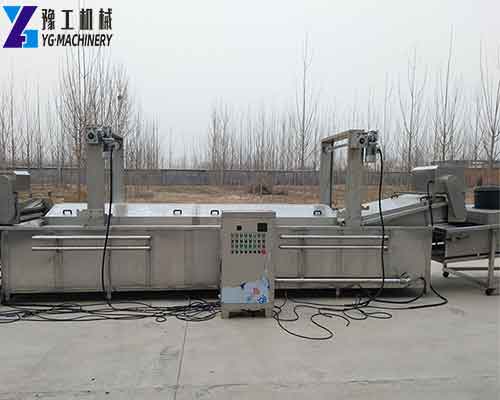 YG Blanching Machine
(1) Purpose: Use hot water at 60-95°C to blanch French fries to remove starch and protect color.
(2) Features: Adopt gas heating, with integral lifting function, easy to clean, maintain, and clean.
(3)Dimensions: 3500*1150*2020mm
Power: 83.55kw /380v/ 50Hz
Electric heating power: 80kw
The effective width of the conveyor belt: 800 mm
YG Air-cooled Dehydration Machine
(1) Purpose: Remove excess water on the surface of French fries, and shorten the subsequent frying time.
(2) Features: Equipped with 4 snail fans, the air nozzle is like a wind knife
(3)Dimensions: 4000*950*1600mm
Power: 3.75kw /380v/ 50Hz
Fan: 0.75*4 units
The effective width of the conveyor belt: 800 mm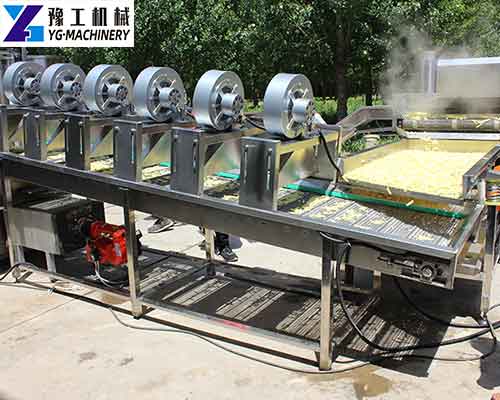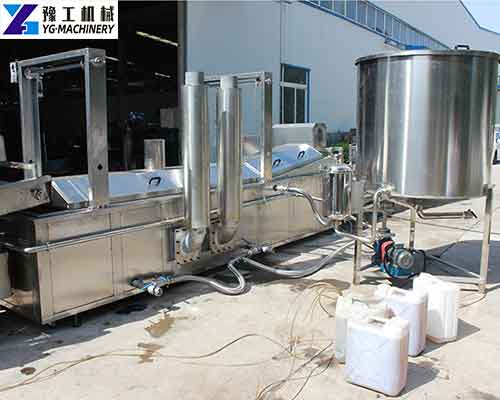 YG Frying Line
(1) Purpose: Fry the cooled French fries.
(2) Features: using gas heating, with oil storage tank, coarse filter, exhaust hood, fried French fries, temperature 0-220℃ adjustable, frying time-frequency conversion speed,
(3) Dimensions: 3000*1160*2200mm
Total power: 123.55kw /380v/ 50Hz
Transmission power: 1.5kw, oil pump: 1.5kw
Boost power: 0.55kw
Electric heating power: 120kw
The effective width of the conveyor belt: 800 mm
YG Vibration Oil Drain Machine
(1) Dimensions: 2000x1450x800mm,
(2) Equipment material: stainless steel
(3) Power: 0.26kw/380v/50hz
(4) Features: The equipment uses stainless steel punching, the punching distance is 2-3mm, and the fries after frying are flattened by vibration while removing excess oil on the surface.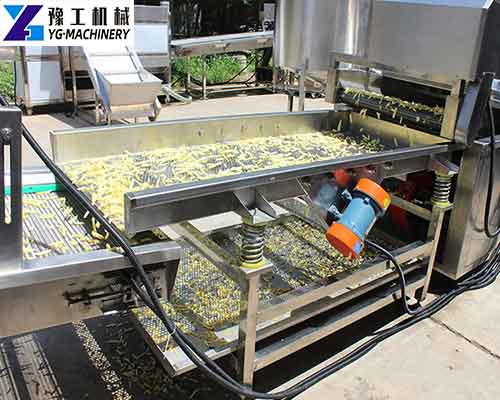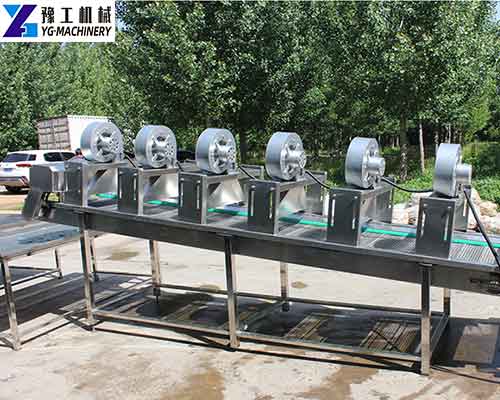 YG Air-cooled Deoiling Machine
(1) Purpose: Remove excess oil on the surface of slices after frying, and at the same time, it can quickly cool down.
(2) Features: The equipment is equipped with an oil pan. The oil that has been blown off can be collected and reused through the oil pan.
(3)Dimensions: 4000*950*1600mm
Total power: 3.75kw /380v/ 50Hz
Transmission: 0.75kw
Fan: 0.75*4 units
The effective width of the conveyor belt: 800 mm
YG Quick Freezing Machine
Placement form: The materials are placed directly on the conveyor belt.
Frozen product feed temperature: 20℃ (center temperature)
Frozen product discharge temperature: -18℃ (center temperature)
Freezing time: 10-30min adjustable
Freezing temperature: -35℃
Dimensions: 7000*2600*2500 (mm)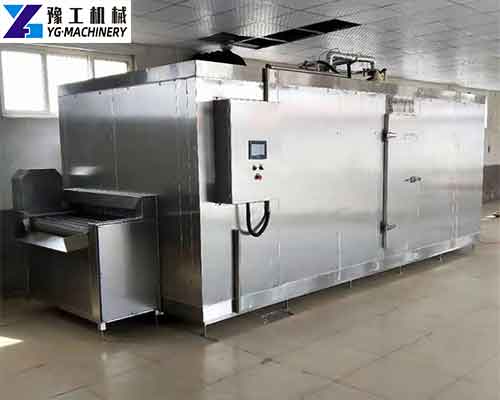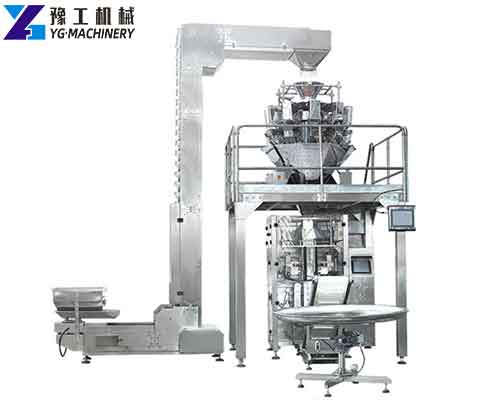 YG Automatic Packaging Machine
(1) Purpose: Used for packaging quick-frozen French fries.
(2) Features: Roll film is used for packaging materials, and the machine automatically makes bags with a top seal, bottom seal, and back seal.
(3)Dimensions: 3.308m
Total power: 4.75/380v/ 50Hz
French Fries Making Machine Feature:
The main body of the snack food frying line is made of SUS304 stainless steel. Fine workmanship, beautiful, strong, and durable. Using an intelligent digital display thermostat is convenient, and practical. The whole machine adopts automatic temperature control, effectively separates low-quality oil, and is safe, easy to clean, and convenient to maintain. With an over-temperature protection device, you can use it with confidence.
French Fries Making Machine Process Flow:
Improve feed→washing and peeling→selecting and trimming→lifting feed→slicing(strip)→rinsing→blanching and protecting color→dehydration→frying→deoiling→seasoning→transporting→packing
French Fries Making Machine Advantages:
The advanced oil-water integrated technology overcomes the defects of conventional frying machines. It can automatically filter and keep the frying oil clean and make the fried products consistent, which not only improves the product quality, and extends the shelf life, but also brings the products Here comes a higher added value.
Advanced mechanical configuration and control can always maintain good working conditions, which not only improves the output but also makes the product quality stable, and the color, fragrance, and taste are unified.
The automatic filtering of this machine can greatly extend the service life of frying oil without frequent oil changes. The oil consumed in the frying process of the product is equivalent to the oil absorbed by the product, and the fuel-saving efficiency is beyond doubt.
The advanced and efficient heating system avoids energy waste to a greater extent and saves a lot of energy expenditure.