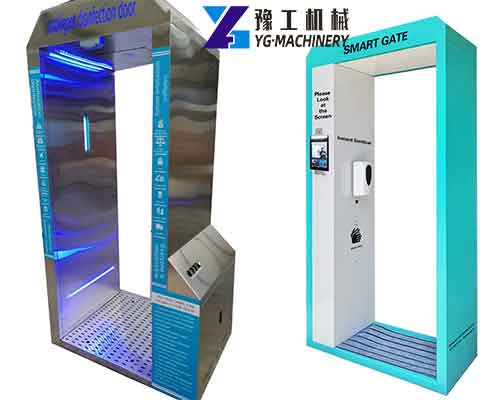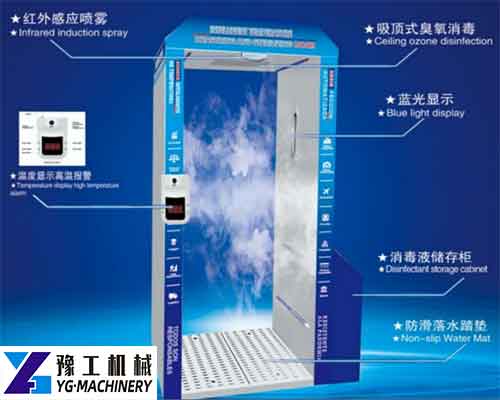 With the continuation of the new crown pneumonia epidemic, some disinfection measures continue to "upgrade and increase". Is this seemingly "intimate" disinfection effective? How should we disinfect scientifically to prevent problems before they happen? As the saying goes, know yourself and your opponent, and you will never end up in battle. To deal with the new crown virus, it is urgent to recognize the "enemy". Knowing the "weakness" of the "enemy", disinfection has become an important means of scientific prevention and control of the new coronavirus. At present, intelligent disinfection doors, electrostatic sprayers, car fog smoke machines, fog spray cannons, nano disinfection spray guns, and intelligent disinfection robots that are available on the market can all be used as important disinfection methods. Most of these devices are also widely used and can be used indoors, in offices, shopping malls, factories, KTVs, and so on. Also, we have glove making machines, face mask making machines, condom making machines, balloon making machines, finger cot making machines, etc. Contact us!【Whatsapp/Wechat/Skype/Phone】+86 136 1385 6800
Intelligent Atomization Disinfection Door Technical Parameter:
Product

name

Outside

diameter

dimension

Passage size

Power

Supply

Total

Power

Conversion

volume

Use the environment
Disinfection door(single)

1200*2300*

800

800*2000*8

00

220V

630W

7.5Kilogra

m time

Hotel, canteen building,

company

school

entrance

Disinfection door(double)

1500*2400*

1500

1100*2000*

1500

220V

850W

12Kilogram

time

Hotel, canteen building,

company

school

entrance

Vehicle Disinfection door

series

3300*2400*

2500

2500*2000*

2500

220V

1700W

24Kilogram

time

Hotel, canteen building,

company

school

entrance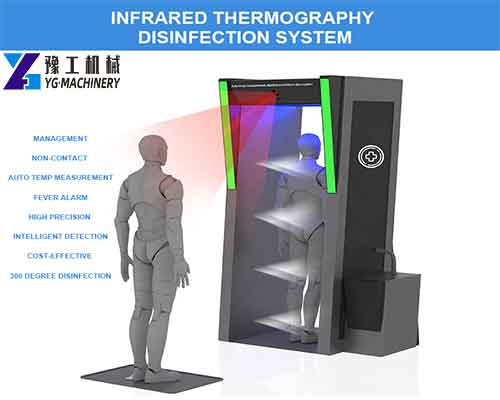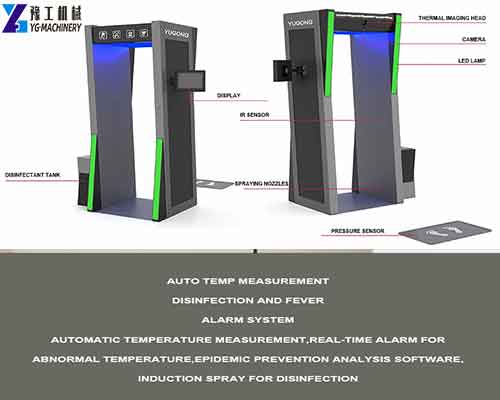 Feature of Atomization Disinfection Door:
The whole is made of stainless steel, corrosion-resistant and deformable, light and portable, 220v city power, convenient switch, simple operation, economical and environmentally friendly, direct use when purchased, saving labor and time, and suitable for schools, hotels, stations, shopping malls, and other crowded places. The disinfection channel is mainly used for personnel disinfection channels in high-end places such as breeding farms, hospitals, food factories, pharmaceutical factories, etc. Compared with traditional disinfection methods, it has a fully automatic induction control system, without personnel operation, ultra-fine atomization, and comfortable and thorough disinfection It is ideal disinfection equipment for the living management area and breeding isolation area of livestock and poultry breeding places.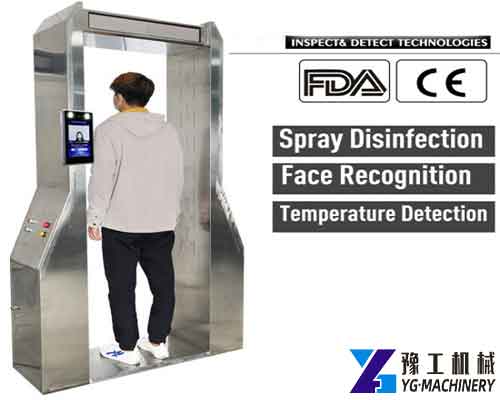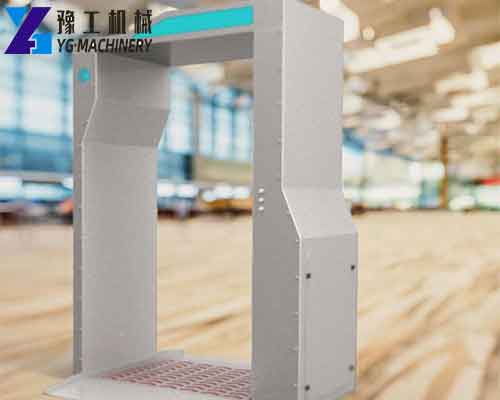 Intelligent Disinfection Door Manufacturer – YG Machinery:
One of our American customers has purchased multiple intelligent disinfection doors from our company. He uses them in his own factory and office building. It is very practical. The reason why he has been buying back is partly for his own use and partly because of the customer's friends. The disinfection channel he purchased is very easy to use, so he asked him to help purchase it. Our customer has purchased 4 times, 20 units each time, and received very good feedback each time, and will buy some of our static electricity backpack sprayers, disinfection spray guns, oxygen generators, etc. are used in the office daily disinfection. Our customers said that as long as they need equipment in the future, they will purchase them from our company. They also said that they will visit our company after the new crown pneumonia virus disappears. I hope that the virus will disappear soon and return to the normal life of people all over the world.
YG Machinery's smart atomizing intelligent disinfection doors have been sold to the United States, Angola, Czech Republic, Spain, Britain, Greece, Congo, South Korea, Peru, Russia, Equatorial Guinea, Iraq, Singapore, Canada, and many other countries, and received very good Customers are very satisfied with the feedback. Because we are a direct manufacturer and support factory visits, inspections, etc., we can completely trust our quality. If you are interested in our disinfection door, contact us now! 【Whatsapp/Wechat/Phone/Skype】+86 136 1385 6800